The BIGS Neuroscience Summer School provides a systematic and comprehensive introduction to key neuroscience topics for first-year doctoral students from a variety of neuroscience related fields, including biology, psychology, medicine, physics and computer science. Our goal is to familiarize BIGS Neuroscience PhD students with current research topics and methods at an early stage of their careers. The summer school is structured in a series of lectures covering topics such as stem cell biology and developmental neuroscience, neuronal cell biology and genetics, neuronal function, diseases of the nervous system, population studies and computational neuroscience. To gain hands-on experience on these topics, the lectures are complemented by visits to the research labs of the participating principal investigators.
Next BIGS Neuroscience Summer School will take place from August 29th-September 7th, 2022.

Due to the current pandemic we can not be sure if we can offer you the School as planned. We are planing to have an on-site summer school with a practical part.
Closer to the school dates we will publish more detailed informations.
Venue
DZNE lecture hall
Summer School Organizer
Gaia Tavosanis, German Center of Neurodegenerative Diseases

Contact
BIGS Neuroscience
Dr. Marion Rozowski
Venusberg-Campus 1, 53127 Bonn
Tel: +49 (0)151 582 80091
email: info@bigs-neuroscience.de or office.org@bigs-neuroscience.de
Schedule
All morning lectures are also open to BIGS Clinical and Population Science members, IMPRS for Brain and Behaviour PhD students, and DZNE scientists. Afternoon lab visits are restricted to 1st year BIGS Neuroscience doctoral students.
This is the Class of 2021!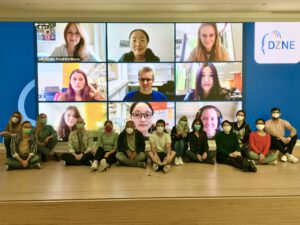 Great lectures, discussions and networking opportunities, accompanied by lab visits that showcased the breadth of neuroscience – that was the 5th BIGS Neuroscience Summer School 2021. We were very pleased to be able to host an on-site/virtual hybrid event this year.
Many thanks to all speakers and labs for their support! To the DZNE Bonn for hosting this event! And to the awesome PhD students who participated!